Cavtat
Cavtat, is a charming Dalmatian town in South Adriatic and only 17 kilometres from Dubrovnik with frequent bus and boat services between the two, a lively resort with a pictoresque bay, harbour and a palmfringed promenade. It is a natural extention of spectacular Dubrovnik Riviera and last urban comunity of the southern Croatian coast. Visitors from all over the world are delighted by breathtaking panoramic view of this unique town nestling between two peninsulas surrounded by three tiny islands.
Nature has been most generous here, making Cavtat one of the most beautiful part of the Adriatic coast. Lush green vegetation is a mixture of dense pinewoods, cypruses, palms,oleandres, intense blue and clean sea, winding coastline dotted by a string of sandy and pebble beaches, numerous secluded bays with chrystal clear waters where swiming is a delight. Cavtat islands Supetar, Mrkan an Bobara with its untouched vegetation are favourite swimming spots only a short boat ride from mainland. Natural beaches are in abundance all around Cavtat: Žal, Ključice, Kamen mali, Prahivac, Čista Luka, Blatna beach in Tiha bay with therapeutic mud.​
Mediterranean climate makes Cavtat a very comfortable place for living and holidays, mild sunbathed winter periods, hot but breazy summers are ideal to explore the meandering paths around the sunny peninsulas through palm trees, cypruses and pinewoods. Tourists enjoy visiting Cavtat as a favourite destination all year round.
People of Cavtat and surroundings are very hospitable and make their living in Mediterranean tradition: tourism, fishing, olive and vine growing.
Cavtat is rich in cultural and historical treasures, with a variety of events in Cavtat and surrounding region. This quiet old town can be enjoyed in its tranquility or for those seeking more active holdays watersports range from sailing, windsurfing, scuba diving, water skiing, para-sailing, jet-skiing and conoeing to pedaloes and rowing boats.
---
INTRODUCING THE REGION

Culture and History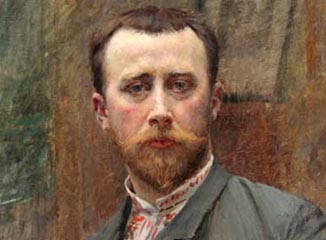 Gallery Vlaho Bukovac
Vlaho Bukovac was born in Cavtat and is one of the most prominent Croatian painters of the 19/20th century. His birth house is now a gallery exhibiting his works of art.
---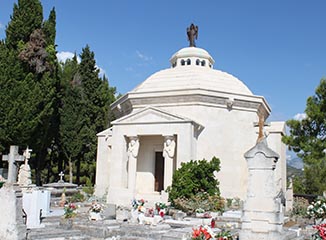 Mausoleum of Racic Family
Mausoleum of Racic Family- was built on the hilltop of St.Rock's cemetery and is a masterpiece of famous Croatian sculptor Ivan Mestrovic. Engraved on the bell based on Mestrovic's design is a reflection of thought '' Comprehend the secret of love,you will solve the secret of death and believe the life is eternal''.
---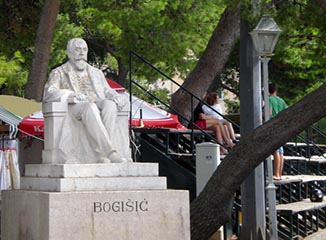 Baltazar Bogisic Collection
a prominent Croaian scientist,jurist and historian Bogisic was born in Cavtat in 1834, the collection is one of the most valuable heritage libraries in Croatia.
---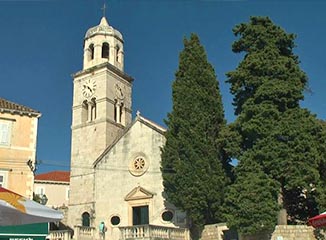 St.Nicola's Church
Cavtat parish church dating back to 15th century,located in town centre next to Rector's palace. Interior is decorated in baroque style and contains paintings of a variety of famous painters.
Active holidays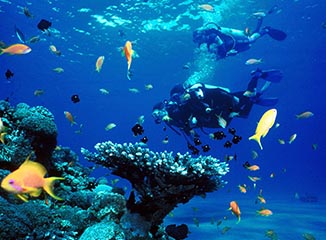 Water Sports
Cavtat is an ideal location for active holdays ranging from jet-skiing,banana boat and tube rides, para-sailing, fishing, sailing to scuba diving.Only 500 metres from Miljanic Apartments, Dive Centre Cavtat conveniently located at the beach of Hotel Croatia will introduce you to rich underwater world of Cavtat. In proximity of small islands Mrkan, Bobara and Supetar are some of the largest ancient Greek finds in the Adriatic.Diving sites cover from ancient shipwrecks with over 1800 amphorae to underwater caves and ancient wall remains while enjoying watching rich flora and fauna of South Adriatic.
---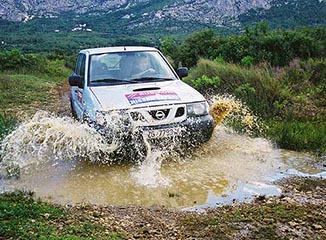 Konsle jeep safari
is an adventure you should simply not miss. This is a whole day trip through Konavle region, from Cavtat to Prevlaka Peninsula, covering Konavle Valley, rivers, mount Velji Do from where visitors can enjoj spectacular views of Dubrovnik Riviera and islands and en route get to learn about customs and traditions while savouring local food and wine.
---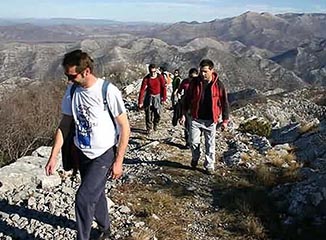 Hiking-from Cavtat base
nature lovers can choose several hiking paths including routes: Cavtat-Mocici-Cilipi about 8 kilometres long and continuing on to Radovcici or memorial ''Ronald Brown'' trail hight up the mountain.
---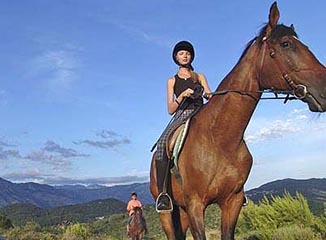 Horse Riding
a small village of Popovici near Cvatat is a home to Riding Centre Kojan Koral. Riding route covers 11 kilomtres and inclides most scenic parts of Konavle with spectacular views of the Adriatic Sea.
Day excursions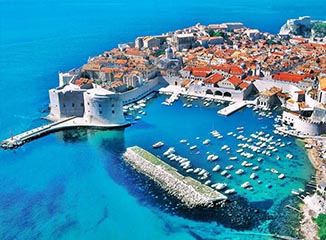 Dubrovnik
city of Dubrovnik is 17 kilometres from Cavtat, one of the unique pearls of world cultural heritage and a UNESCO site.
---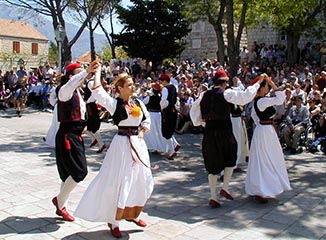 Čilipi
7 kilometres from Cavtat, in front of parish church , every Sunday morning at 11.15 a.m. after Sunday holy mass you can witness the traditional songs and dances of Konavle performed by locals dressed in colourful folk costumes. You can also learn about local customs and traditions, purchase handcrafted embroideries from stalls in the churchyard and visit the Heritage Museum of Konavle with rich exhibits of Konavle cultural heritage.
---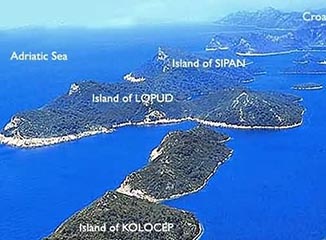 Elaphite Islands
departing direct from Cavtat, you can join one of the excursion boats visiting the islands of Kolocep, Sipan and Lopud. Other interesting places to see on a day excursion are: Ston, Island of Korula, Mostar, Medjugorje, Montenegro....
Events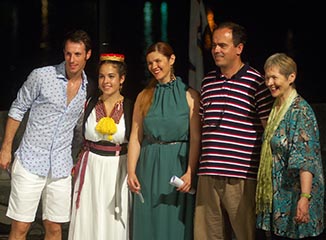 Cavtat Epidaurus festival
is a music event which also includes other art forms such as drama, folklor, lectures and held every year from end of August to end of September. Classic Concerts- take place on Sunday and Mondays at 9 p.m. from 1st May in the Franciscan Monastery cloister.
---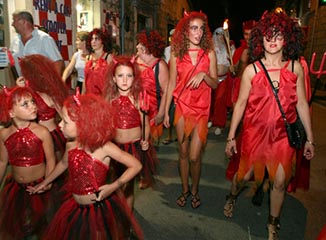 Cavtat Summer Carnival Fest
is held every year at the end of July.
---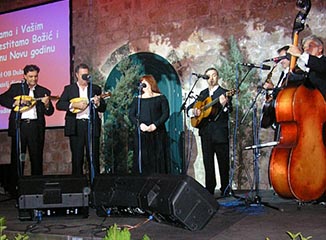 Cavtat Summer
very year from end of June, takes place mainly in the open air outside St.Nicola's church and along seafront promenade. Events include performers and dancers ranging from classics music, street entertainers, dance and folklor groups which will make your holiday in our little town even more enjoyable.
---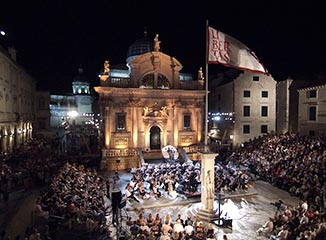 Dubrovnik Summer Festival
an annual event from 10th July to 25th August with spectacular opening ceremony at 9 a.m. on the 10th of July in front of St.Blaise Church.